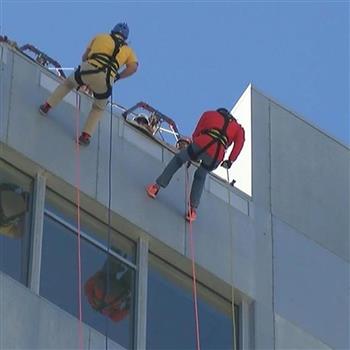 Edit in profile section
We Did It! Rappelled 46 Floors Last Saturday- Now We Need Your Help!
Kris Van Giesen
We Did It! Rappelled 46 Floors Last Saturday- Now We Need Your Help!

This past Saturday, October 13th, I rappelled 46 Floors down the side of the San Francisco Hyatt Union Square Hotel with my childhood friend, Scott Gummer (seen in orange in pictures above), to raise scholarship funding for Outward Bound California, and we now need your help and support. Please give today and help us reach our fundraising goal to change lives.

If you had opportunities growing up to spend memorable and meaningful time in the outdoors, we would love your help in providing similar opportunities for those who may not have access to them.

Your support of our "over the edge" rappel will help bring outdoor adventure and challenge to young people, and in turn, they will discover that they are capable of more than they ever thought possible.

Through your gift, you will allow Outward Bound California to provide these priceless experiences of personal growth to thousands of underserved youth. We believe all young people, regardless of socio-economic circumstances, can learn to push themselves and realize that their horizons do not need to be limited by immediate circumstances.

Please pay your own life experiences forward and support our 46-story journey!